A Gabion Stone is a large natural stone, generally between 80mm-200mm in size.
They are used to fill wire cages known as Gabion Baskets, which are generally used to quickly create inexpensive but aesthetically pleasing retaining walls.
Due to their natural and angular look they are now widely used across construction & landscaping to help create practical and visually pleasing structures.
Gabion walls have gaps and cracks, making them effective drainage structures and are sometimes used in flood defence schemes.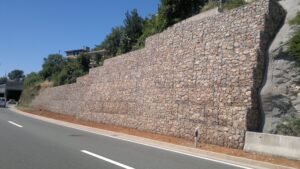 Where are Gabion Stones used?
Retaining Walls
Noise Barriers
Temporary Flood Walls
Channel Lining
What materials are used to produce Gabion Stone?
There isn't one specific type of material that is used to produce aggregates for gabion baskets. If the stone is strong and durable it can be used.
You often see the following type of stone used:
Gritstone
Limestone
Sandstone
Are there specifications for Gabion Stone?
Depending on the project requirements there are industry specifications when using Gabion Stones in a Gabion Basket.
Each stone needs to be hard & durable and non-frost susceptible.
The minimum dimension should not be less than the mesh opening and no larger than 200mm.
Do you need strong & durable Gabion Stone? Get in touch to discuss your requirements on 0161 647 7409 or info@gmat.co.uk