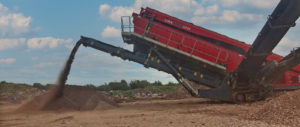 The crushing team will be operational at Adswood Recycling Centre for a 4-week crushing campaign. All recycled aggregates are produced on-site in accordance with WRAP Protocol and the relevant British and European standards. We will be producing the following aggregates for delivery or collection:
Adswood accepts Inert construction and demolition waste materials under an Environment Agency Standard Rules (2009 no.6) permit. The permit reference is AB3105XC. If the material is clean Hardcore it will be accepted on-site free of charge and recycled into an aggregate product.
The site is conveniently located ten minutes from the M60, M56, A34, and A6 for easy access around Greater Manchester.
Get in touch on 0161 647 7409 for cost-effective recycled aggregates.