What is MOT Type 1 Sub-base?
MOT Type 1 Subbase or just Type 1 Subbase is a granular crushed aggregate. It is used as a subbase in construction work.
Aggregate material is crushed to 40mm down to dust. This mixture of sizes makes it great for compaction, making it extremely strong with great loading bearing qualities.
It's often used as a subbase for roads, highways, and pathways.
What does MOT Type 1 mean?
MOT stands for Ministry of Transport (MOT). It was also known as DOT Type 1 for the Department of Transport (DOT).
It's given this name because it was specified in the Department of Transport Specification for Highway Works.
What material can be used to produce Type 1?
It can be produced using both quarried and recycled materials.
Generally, it's produced using Gritstone, Limestone, Granite, or Basalt. Recycled materials such as Bricks, Concrete, and Hardcore can also be used.
What are the specifications for Type 1 Subbase?
If the material is to be used in highway works it must meet Clause 803 in the Specification for Highway Works.
For those after the detail the specifications are below:
Mixture and grading requirement categories for unbound mixtures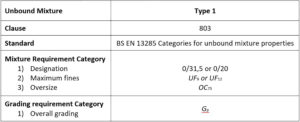 Requirements for Aggregates used in unbound mixtures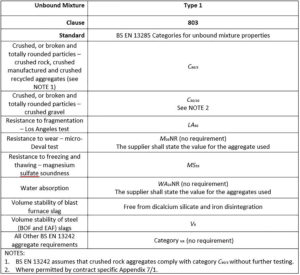 Requirements for Recycled Coarse Aggregates and Recycled Concrete Aggregates

Summary grading requirements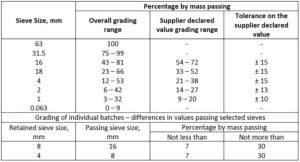 If you require Type 1 Subbase get in touch with our dedicated account managers on 0161 647 7409 or info@gmat.co.uk